Tinnitus – Get The Facts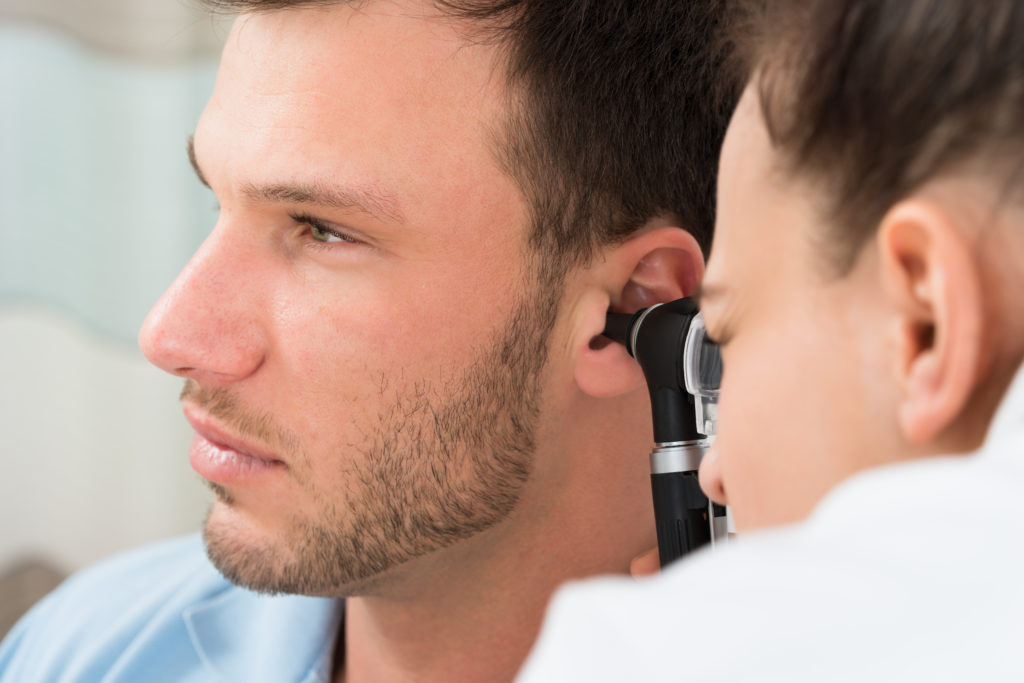 What is it?
Approximately 50 million American have experienced tinnitus at some point in their lives. And roughly 1 out of 5 people have tinnitus that is so persistent that it negatively affects the quality of their life. 
Tinnitus occurs when you hear a continuous sound – usually a ringing, whistling, hissing, whooshing or buzzing – when there is no external sound present. The noise can range from high to low and can be intermittent or continuous, lasting longer than 6 months. 
If you are experiencing any of these symptoms, it is vital that you seek out professional help. Visiting an audiologist or hearing care professional is the best way to understanding and treating your tinnitus. 
What causes tinnitus?
The most common cause of tinnitus is being exposed to loud sounds for extended periods of time. As high as 90% of people experiencing tinnitus have some form of hearing loss. Prolonged exposure to loud sounds can permanently damage the tiny hearing cells of the cochlea, located inside your ear. 
Some of other causes of tinnitus include:
The ear being blocked due to ear wax, infection or even a benign tumor. 

Reactions to certain prescription or non-prescription drugs, such as aspirin, antibiotics, sedatives and antidepressants. 

The aging process, which can gradually diminish the quality of your hearing.

Medical conditions, including high blood pressure, diabetes, cardiovascular disease and circulatory issues. 

Otosclerosis, which is a condition that stiffens your middle ear's tiny bones. 

Ménière's disease, which affects your inner ear and impairs your hearing and balance. 

Temporomandibular joint (TMJ) syndrome and other neck and jaw problems

Alcohol, tobacco and caffeine can worsen symptoms of tinnitus in some individuals. Stress and fatigue also have a negative effect. 
Seeking medical help
If you are experiencing any tinnitus symptoms you should immediatelyseek help from a hearing care professional. Since tinnitus is often a symptom of something else, it's important to find out what the underlying cause is. This is particularly essential if tinnitus appears suddenly in one ear or if you experience hearing loss. 
Tinnitus Treatment
Tinnitus treatment will vary depending on what's causing it. 
In most cases, tinnitus is caused as a result of your hearing being damaged. If this is the case, there's often no need for treatment other than knowing that the tinnitus is not due to illness or disease. 
However, if the tinnitus is bothering you, there are some treatment options to make it less noticeable. These include:
Tinnitus maskers, such as hearing aids or noise machines that produce pleasant, gentle 'white noise' to block out the tinnitus sound.

Anti-anxiety or antidepressant medications to help you relax and improve your

mood

.

Tinnitus retraining therapy (TRT) trains you to be less aware of the tinnitus and accept it as "normal." Masking devices, similar to hearing aids, that create pleasant background sounds can also make tinnitus less noticeable. 

Avoiding alcohol, tobacco or caffeine consumption, since it can make tinnitus worse in some individuals. 

Learning relaxation techniques, since tinnitus symptoms can worsen when you are under stress. 

In situations when the tinnitus is due to a tumor or aneurysm, the focus will be on correcting those problems.
Preventing tinnitus
The only true way to prevent tinnitus is by protecting your ears from damage. This includes wearing ear plugs or earmuffs if you work in a loud environment or during loud events, such as concerts or sporting events. 
If you have any questions please contact us at (201) 445-2455. We look forward to hearing from you soon. 
Sources
http://home/sophisti/public_html.emedicinehealth.com/tinnitus
http://home/sophisti/public_html.entnet.org/content/tinnitus